Welcome to the Stanley Cup Playoffs.
The playoffs begin tomorrow (probably today by the time you read this), and as we gather around our televisions to yell at hated rivals and cheer on the Penguins and our bandwagon Western Conference teams, there will be something missing, and it points to the former: hated rivals. Sure, the Capitals are in the playoffs, but the rivalry with them is more a creation of the media and serves as little more than a bragging point for Penguins fans, who have been able to witness Washington crumble at the feet of the Penguins on numerous occasions. The Rangers are in as well, though to say the Penguins have a "rivalry" with them would be to say that Ronald Reagan had a rivalry with Walter Mondale (this blog's favorite analogy for a landslide). The Rangers simply aren't enough of a thorn in our side to care about them. And the Islanders? Well, we'll get to them later.
So what's missing? Surely the Penguins can't have a big-time rival that didn't make the playoffs? Rangers are in, Capitals are in, Islanders are in, Red Wings are in, Ph.......
Wait a second. Is....Is.....
The Philadelphia Flyers will be watching the playoffs from their couches. Actually, Daniel Briere won't be watching on the couch, because his wife took the step ladder in the settlement.
Philadelphia's season began like a Guns N' Roses show, and ended the same way: disaster. The part of Axl Rose will be played by Ilya Bryzgalov, who left the "stage" (locker room) yesterday, telling the Philly media the Russian-accented equivalent of "Yinz can ALL suck it". The blame (or thanks) doesn't lay solely on the shoulders of the Cosmonaut, though. Just like the rest of Guns N' Roses, the Flyers used to be good enough to back up Bryz. But when Slash (Pronger) and Izzy (Jagr) left, the Flyers didn't have the offense to score, and the defense left Bryz out to dry like an old lady's bloomers on a clothesline.
Philly actually finished 7th in the conference with 133 goals for, but found themselves in 10th with 141 goals against. These numbers aren't terrible, but coming in 10th in the conference in goals against just ain't gonna cut it, Jack. Bryz finished 36th in GAA at 2.79, and 43rd in SV% at .900. Those stats couldn't get the '84 Oilers into the playoffs. The blame, again, isn't entirely on Brygalov. He was 12th in shots against. Looking at the other goaltenders in the top 12, only half of them are in the playoffs, and they were bailed out by solid offense, despite defensive failure, something the Flyers were unable to provide everyone's favorite HBO character.
I like Bryz, so I'm basically defending him. Plus, it's more fun to put the blame on all of the Flyers. Killing 20 birds with one stone.
But while we rejoice at their hilarious failure now, we know that just like Frosty the Snowman, they'll be back again someday. Hell, they might be back tomorrow, but only because they let Chris Pronger drive, and they got lost.
It should be mentioned that I'm not making fun of Pronger. Ok, I am. But I legitimately feel bad for the guy, and I put the line I wrote above to a vote. I didn't get any responses, so I just assumed that if I had, they would say "who cares, he can't read it anyways".
If I ever meet Chris Pronger, I will beg for his forgiveness and remind him that I'm just some punk kid hiding behind a computer. Then I will change my pants. I really do hope he recovers, because he doesn't deserve for his Hall of Fame Career to end the way it has. Those jokes were in worse taste than Scott Hartnell's ex wife (who Hartnell, himself, trashed on Twitter, so I'm not apologizing for that one).
To wrap up my semi-eulogy of the Flyers team that had a shorter shelf-life than "Gangnam Style", I would just like to say that I wish them nothing but failure and terrible draft picks until the sun explodes and we all burn to tiny bits.
________________________________________________________
The Eastern Conference was kind of like a bowl of day-old curry with whipped cream on top. I've already covered much of this in recent posts, but just to give a quick recap......*deep inhale* the Ottawa Senators suffered many injuries but kept themselves alive the Jets failed to make it the Panthers proved that last season was a fluke the Flyers sucked the Rangers weren't the monsters they were supposed to be the Bruins are worn out like tires on a Model T the Canadiens are in the midst of a collapse the Devils are old enough to actually be captained by Lucifer everybody else sucks and the Flyers sucked too.
Now, call me a homer (I am), but guess what? The Penguins destroyed the competition in the East, and it wasn't close. While other teams sold off assets in endgame Monopoly-like fashion, the Penguins were more than happy to scoop up Park Place and Boardwalk, and landed Jarome Iginla from the Calgary Flames and Brenden Morrow from the Dallas Stars. They also acquired Douglas Murray from San Jose, and convinced Carolina to give them Jussi Jokinen while still paying a chunk of his salary. Jokinen has put up 11 points in 10 games in Pittsburgh. Not too shabby for a guy who was put on Waivers a month ago, huh?
They finished the season on top of the East, but none of that matters now, and none of it will ever serve as anything but a reminder of expectations that weren't met, should they fail to make it to the Stanley Cup Finals. So now it's time for the team to put up or shut up. Ray Shero did his part. Now there are 20 or so guys who need to step up. And for our part as fans, I expect beards and hoarse voices until the final buzzer. I expect to lose half of my friends due to my insane behavior while watching these games, and I hope to not be able to start on rebuilding those friendships until late June.
________________________________________________________
The Matchups: Eastern Conference
The 4-5 Matchup: #4 Boston Bruins (28-14-6) vs #5 Toronto Maple Leafs (26-17-5)
Regular Season Series: 3-1 Bruins
The battle begins again for two Original Six teams. Of course, we all know that the Original Six is a nonsensical marketing term the NHL came up with to sell more merchandise. The Original Six makes no mention of the original Senators, Toronto Hockey Club, or Montreal Wanderers. But for this series, you will be constantly reminded about the glory days of the Original Six teams, and you will have to shovel down mouthfuls of BS until you vomit up something that looks like a Flyers jersey.
Regardless, there is a series to be played. As is the case with any 4-5 matchup, I find it very difficult to pick a winner. The Bruins have experience on their side, winning the 2011 Stanley Cup with a similar roster to the one they have now. However, the Big Bad Broons looked tired in the final weeks of the regular season, including the final game against the Senators, where they looked lost at times, and Terry Schiavo-esque at others. I don't think that their offense will be able to bail them out, as they finished 14th in the league in goals for, many of which came in the beginning of the season, when they still had life. If they win, expect a lot of 1-goal victories.
The Maple Leafs, on the other hand, are the only team to not make the playoffs between lockouts. What an accomplishment. Sucking for a sustained period is no fun, and it cost Brian Burke his job. Know what else is no fun? Getting fired at the beginning of the season where the Leafs finally make the playoffs. Sorry, Burky.
"I told them Phil could do it..."
I don't trust the Leafs' goaltending, though Reimer has been excellent this season, considering the uncertainty the Leafs faced in the net a few months ago. Reimer is the clear-cut number one guy, but will he be able to stand up to the Bruins in the playoffs? We'll find out soon. I'm putting money on the Bruins' Chara being able to neutralize the scoring touch of Toronto's Phil Kessel, thus squashing a large part of the Toronto offense. The rest of the Bruins' defense will take care of the rest. Toronto could steal it, but I don't think it'll happen. Bruins move on.
Not this year, Toronto.
Prediction: Boston wins, 4-2
The 3-6 Matchup: #3 Washington Capitals (27-18-3) vs #6 New York Rangers (26-18-4)
Regular Season Series: 2-1 Rangers
The Capitals were so mud for most of the season that an Ethiopian wouldn't make a house out of them. Then, somehow, they started rolling. I don't know how it happened, and I won't give them credit, because they are a terrible hockey team. Their defense is terrible. Their goaltending is terrible. Their offense is terrible. But they have Ovechkin, who a friend once told me is "the sexiest man alive," and she wasn't kidding.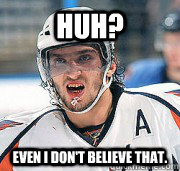 The Rangers also sucked more than they should have this season. I'd spend more time analyzing both teams, but to be honest, I don't care about either of them at all.
In the end, I firmly believe that the Rangers will defeat the Capitals. Ovechkin is on fire lately, but he's running into Henrik Lundqvist, who is usually lights out in the first round. I expect King Henrik to put up a stellar first round performance again, and shut down Ovechkin. With OV out of the picture, Backstrom is invisible, and Mike Ribiero won't pose enough of a threat to win a series on his own. Meanwhile, New York's Rick Nash will turn out to be a playoff warrior. Not good enough that they can win the Cup, but he'll be really good. He's built for this part of the season, and we'll finally get to see what he can do in the Spring. Washington's goaltending might have been good in the final stretch of the regular season, but like all Washington goaltenders before him, Braden Holtby will be picked apart like Mufasa's carcass on the Serengeti.
Prediction: New York wins, 4-3.
The 2-7 Matchup: #2 Montreal Canadiens (29-14-5) vs #7 Ottawa Senators (25-17-6)
Regular Season Series: 2-2 tie (2 wins, 1 loss, 1 overtime loss apiece)
The Ottawa Senators are a team fueled by hate. They hate you, they hate me, and they hate Matt Cooke. While this might be a fun thing to poke at in the regular season, it can motivate a team to do great things in the playoffs.
"Terrible....but great, Mr. Potter...."






However, will they be able to harness the hate that they used to propel them from the depths of defeat and into the playoffs, or will they let that hate get the best of them the way they did when the Penguins and Matt Cooke visited Ottawa a little over a week ago? One thing that is outside the realm of that potentially reckless energy is goaltender Craig Anderson. Winner of 2013's ugliest hockey player award, the extra from the 1972 film "Deliverance" suffered a big injury that kept him out for a lot of the season, but goaltender Robin Lehner stepped up and saved the day in a big way. However, Anderson is back in net, and a quick Google search of "Craig Anderson is ugly" returned nothing but headlines that read something along the lines of "Craig Anderson Steals Ugly Win for Senators". Expect that to continue.
The Canadiens started the season on fire, but have fizzled in recent weeks. PK Subban provides a threat on the back end, but the Canadiens do not have enough up front to win them this series, especially against Ottawa's goaltending. I wouldn't be shocked, again, if the Canadiens win it, but the Senators will turn out to be too much. Because of injuries, the Sens have been playing playoff hockey for over a month, and have gelled as a team because of it. They're ready, while the Canadiens don't have the energy they brought in February. Prepare for the 2013 Montreal riots.
I asked for a contribution, and this is what I got:
Credit to the superemely-talented James. P. Matsif, esq.
Prediction: Ottawa wins, 4-2.
The 1-8 Matchup: #1 Pittsburgh Penguins (36-12-0) vs #8 New York Islanders (24-17-7)
Regular Season Series: 4-1 Penguins
Basically, the Penguins make a habit of beating up on the New York Islanders. The speed the Islanders bring is no joke, but they won't be able to beat this Penguins team. It's as simple as that. Evgeni Nabakov is a tested playoff goaltender, and by that, I mean he has a D-average. He's a big part of the "Sharks can't win the cup" stigma that's surrounded San Jose for about a decade. The Islanders, if anything, are reminiscent of the 2007 Penguins team that lost to Ottawa in 5 games, though they lack a lot of what made that team a Stanley Cup finalist the next season.
The Islanders perpetrated the Ambush on the Isle a few seasons ago, something that lives on in the minds of Penguins fans, if not the team themselves. NHL teams have long memories, but I don't think the Penguins will give that night a second thought. Pittsburgh is here to do one thing, and that's win the Stanley Cup. The Islanders will be a nearly-forgotten footnote on their path, if they succeed in hoisting the Cup in June.
Prediction: Pittsburgh wins, 4-1.
As a quick recap of my predictions, I predicted the West as follows:
#5 Los Angeles over #4 St Louis, 4-2
#6 San Jose over #3 Vancouver, 4-3
#2 Anaheim over #7 Detroit, 4-2
#1 Chicago over #8 Minnesota, 4-0
And in the East,
#4 Boston over #5 Toronto, 4-2
#6 New York Rangers over #3 Washington, 4-3
#7 Ottawa over #2 Montreal, 4-2
#1 Pittsburgh over #8 New York Islanders, 4-1.
Of course, none of these predictions really mean anything, they're just food for thought. I hope you enjoyed reading all of this, but more importantly, I hope you enjoy the Stanley Cup Playoffs. While issues regarding money threatened to ruin a lot of what makes this sport the best in the world, the Playoffs remain intact, and will be as exciting as ever. Let's go Pens.